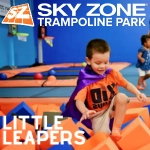 Sky Zone Doral
Little Leapers
Sky Zone
5450 NW 82nd Ave, Doral, Florida 33009
Apr. 30th - Dec. 31st
Learn and grow through different types of play! Little Leapers is a fun, high-energy play adventure created for parents and little ones to enjoy together. You'll love watching your child bounce, climb and explore in a safe environment while interacting with similar age children and learning about sharing, teamwork, and other important social skills. Bond, make memories and watch your Little Leaper thrive. Tickets are just $12. Every Sunday 10am - 12pm. For ages 5 & younger.
BOGO Mondays and $14 Tuesdays at Sky Zone Doral
All jump sessions only $14 every Tuesday. See you there! Jump with a Friend! Every Monday all Jump sessions are Buy One Get One Free!